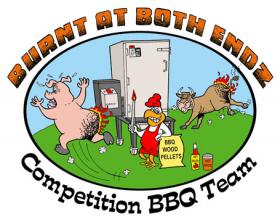 Burnt at Both Endz competition team has been bringing home wins this year almost every weekend it seems! Calvin and Sonja Burchett use a Cookshack FEC100 and PG500 to compete. Just in the past couple months they have taken home prizes such as Top 3 at the Johnson Country Fair BBQ Contest, 3rd overall at the Fin to Fur Red, White and Blue BBQ Blowout in Thayer, Missouri and finished 6th overall at the Rock N Freedom Contest.
Cookshack loves that Burnt at Both Endz takes advantage of our Winner's Circle. Each time any competition team wins a Grand Champion, Reserve Grand Champion, places in the top 10 overall or wins 1st in any individual category they qualify for a FREE 20 lb. bag of pellets or a smoker decal.
Congratulations Burnt at Both Endz. We look forward to seeing more of you in the Winner's Circle!