Here is one of the easiest fajita recipes we have ever cooked here at Cookshack. It seems plain, but the marinade makes the meat super juicy and delicious by itself or mixed in with the veggies! We used the PG1000 but you can use any grill and just adjust the time accordingly.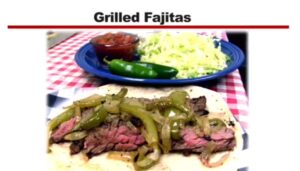 Fast Eddy's Simple Fajitas
Ingredients:
3 lbs. Beef Skirt Steak
Fajita Seasoning
Green Pepper
Onions
Marinade:
1 c. Chopped Onions
1/4 c. Chopped Cilantro
4 Cloves Minced Garlic
1 Bottle Italian Dressing
Directions: Mix marinade ingredients together. Add trimmed skirt steak. Marinade for at least 4 hours.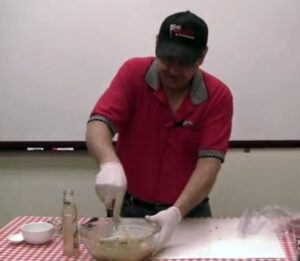 After the meat has set in its marinade, slice 1 bell pepper and 1 onion in about 1/4″ strips. Toss with olive oil and put in an aluminum pan. Cook at 400°F on the top shelf of the PG1000 pellet grill.
Remove skirt steaks from marinade. Season both sides heavily with fajita seasoning.
Grill on the indirect side for 10 minutes on each side at 400°F. Remove both the bell peppers and onions and the steaks. Slice steaks against the grain and put on the tortilla. Add vegetables and toppings of your choice to create your favorite fajita.