This recipe for Southwest Stuffed Chicken Breast was easy and tasty! Summer cookouts with your family are a blast and this recipe can be altered to fit your family's taste. You can add or reduce the amount of green chili and onion if your family likes more or less heat. Also, we used our PG1000 to grill and smoke, but if you only have a charcoal or propane grill just cook the chicken all the way through on the direct heat.
Ingredients:
4 boneless, skinless chicken breasts
2-3 Tbs. olive oil
Salt and pepper to taste
Stuffing Ingredients:
1 c. Monterrey Jack Cheese
4 oz. Diced Green Chili
3 Tbs. Chopped Green Onion
1 tsp. Ground Cumin
2 Cloves Garlic, Minced
Directions:
Mix stuffing ingredients together.
Cut pockets in the center of the chicken breasts and add the stuffing mixture (here you can hold the chicken together by using toothpicks if your stuffing will not stay in the pocket).
Rub outside of chicken with olive oil and season with salt and pepper.
Sear on the direct side of the PG for about 1 minute on each side and finish on the indirect side at 350 degrees for about 20 minutes or until the internal temperature reaches at least 170 degrees.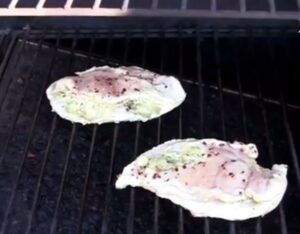 Enjoy!